My Teaching Philosophy
Learning is the fundamental base of success and is continuous throughout life. My passion for learning has enabled me to empower students throughout the years of being involved with local school districts and college districts.
Being able to teach has given me the opportunity to show students how to broaden their beliefs, thoughts and ideas. Having students excited about a subject will enhance each student's ability to comprehend the concept. Combining all aspects of learning such as hands-on experiments, visual aids, verbal communication, lecture, mind activities such as crossword puzzles, assignments and projects-related activities increase the benefits for the student because the student will understand learning a subject does not mean just reading in a textbook. Experiencing new challenges and activities allows students to correlate the subject to real life situations. By allowing students to experience life related events that correspond to the subject, the teacher provides one of the necessary keys to increase learning within the classroom.
I also believe being an educator is more than teaching the concepts of a subject. I believe teaching is one of the most important jobs because teachers are able to give students opportunities to experience new and exciting knowledge about all aspects of our culture, our land, our humanity, and a chance to evaluate our own lives. Entering the classroom each day is a new experience for the teacher and for the student because each day brings new challenges and achievements. By exposing students to the positive aspects of life, the teacher watches a student grow from a person who is unaware of the richness of life to being able to appreciate the blessings within life.
Finally, I feel being a teacher is more than just teaching the material. I want the students to learn through my personal actions how compassion for others, responsibility for oneself and motivation to achieve goals will enable a person to achieve his or her personal desires, goals and dreams in life. As a teacher, the balance of commitment, care and the desire to teach should always be my priority so that my students can achieve all they can within the classroom and beyond.
The teacher must show these qualities to the students as well the educational lessons. With these key factors, students will want to learn and better themselves.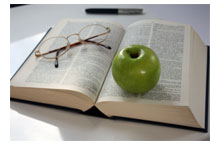 It is my goal to enrich the student's lives by increasing their knowledge about history and different situations in life. By keeping this goal in mind each day, I know I will be able to make a difference in each student's life. Teaching students knowledge and knowing that I make a difference in their day is why I want to be a teacher. I feel shaping a person's life even for a short amount of time is an honor and a privilege in which is a true blessing.